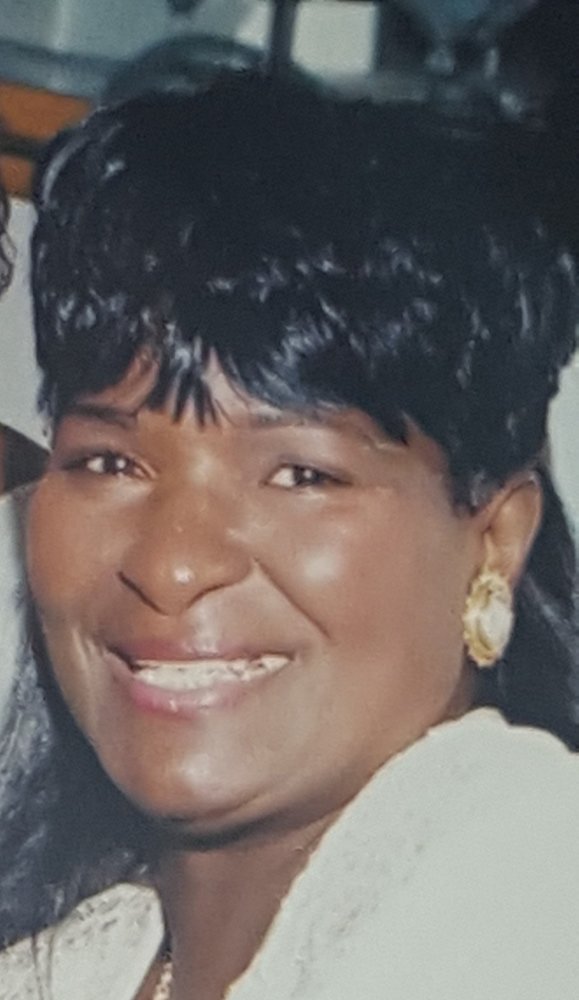 In Memory of
Earnestine "Earnie" Hall-Grice
1941 - 2018
Obituary of Earnestine Hall-Grice
Earnestine Hall-Grice of Bridgeton, New Jersey went home to be with the Lord and Savior Peacefully on January 20, 2018. She was surrounded by several family members close by her side. The Mincey-Holloway family lost a "Matriarch".
Earnestine was born on August 17, 1941 to the late Sadie Holloway-Hall and the late Bernard Hall. She relocated from Glenville, Georgia in a shoebox with her mother and other family members to a community well known as "Victory Park" in Bridgeton, New Jersey.
Earnestine attended Gouldtown Elementary School in Fairfield Township and was educated in the Bridgeton School system. She then met and married the late Eugene E. Mitchell (Pender). To this union was born two children; Eugene E. Mitchell, Jr. and Gwendolyn C. Hall-Thomas. Her eldest and beloved son is Earnest Bernard Hall of Camden, New Jersey. We will always honor and remember her as a caring loving mother. Earnestine also successfully graduated from "the Last Remnent Bible Institute" and she was very proud of her ministerial achievements. She began her christian journey at the "Prayer Band", formerly Faith Chapel, where her mother, along with a few other members began the ministry and were the pillars under Pastor Inez Golsen. Earnestine enjoyed serving the Lord and sharing the word of God with sincerity. She was a "Mighty Soldier" and a "Prayer Warrior".
Earnestine then married George Grice and together they enjoyed life with both friends and family. Earnestine, affectionately better known to family and friends endearingly as "Earnie" was employed by Owen's Illinois Glass Co. She retired after approximately 23 years of service when the company relocated to the southern region. She worked hard and smart to achieve her level of success and classy lifestyle. She was so proud that she had built her own home in Gouldtown in order to raise her family. She enjoyed hats, shopping, clothes and being very well dressed as a woman of class.
Earnestine then received her nursing certification and was employed at the NJ Veterans Memorial Home (Old Soldier's Home) in Vineland, where she was known as a compassionate caregiver. She retired after more than 15 years of service at the Veteran's home. Over the years thereafter she enjoyed her retirement. She was giving and extended herself as a servant to assist anyone in anyway that she could. Throughout those years "Earnie" became that Proverbs 31 woman which personifies love and kindness. She practiced those attributes in her daily lifestyle. "Earnie opened her home to many as she enjoyed decorating, crocheting, sewing, yard work and flower gardening, She often referred to her flowers fondly as her "flower babies". One of Earnestine's favorite sayings was, "Give me my flowers while I can smell them!" She especially enjoyed sharing family recipes and her all time favorites were "Crabs" and the "Pig Pot" at barbecues and cooking together with family.
"Earnie", in her free time, enjoyed shopping at Boscov's, arts and crafts and listening to music as some of her hobbies. She also enjoyed family outings and gatherings. She truly loved her family! Gatherings were special, as she would often say, "Don't forget about the family prayer" and " A family that prays together, stays together" and she meant just that. In prayer time, there was always allotted time to sing the family gospel favorites and family sing alongs were inspiring. This would usually be followed by a complete church service in her basement. Her home became one of the main houses for family gatherings as a house of prayer. She frequently enjoyed participation and fellowship with close friends at the Fairfield Township Senior Center and she cherished those relationships.
Earnestine was a loving and faithful active member of In his Image Ministries, whereas she was known affectionately as "Mother Grice". Mother enjoyed missionary work, visiting local nursing homes, hospitals, sick and shut-ins and reading her bible with others. "Earnie" sang with various choirs. She remained faithful singing with the adult choir for many years at Union Baptist Temple. She also used her creative talents and abilities on many projects and special events at Glory Tabernacle Church in various ministries. "Earnie was proud to be a servant and would humbly open up her home as a host to many well known and traveling ministers when they visited the area. Even though Earnestine's health had begun to fail, she remained faithful until the Lord called her home. She is preceded in death by; her husband, George Grice; her mother, Sadie Ward; three sisters, Annie Elrod, Bernice Newell and Yvonne Watford.
She leaves to cherish her memories and legacy; two sons, Earnest B. (Catina) Hall and Eugene E. Mitchell, Jr.; one daughter, Gwendolyn C. Hall-Thomas; a brother, Walter (Margaret) Brown; three sisters, Linda Hall of the Bronx, NY, Audrey Johnson of Wilmington, DE and Doris Cain of Bridgeton; a host of cousins, nieces, nephews, a quiver full and overflowing of 17 grandchildren, great-grandchildren and great-great-grandchildren; her most dear and best friend of 58 years, Ms. Whilimena Troxler and a host of many other special friends and loved ones including her Word of Grace/New Covenant church family.
Funeral services will be held at In His Image, 337 Gouldtown Woodruff Rd, Bridgeton, NJ 08302 on Saturday, February 3rd at 11 AM. Interment will take place at Overlook Cemetery in Bridgeton. Friends will be received at the church from 9 AM to 11 AM prior to the services. Written condolences can be sent to the family through the funeral home website at www.padgettfuneralhomes.com.
Bridgeton: (856) 451-1999
Cedarville: (856) 447-4551

Bridgeton Location

1107 State Highway 77
Bridgeton, New Jersey 08302
Phone: (856) 451-1999

Cedarville
Location
160 Main Street
Cedarville, New Jersey 08311
Phone: (856) 447-4551

Quicl Links