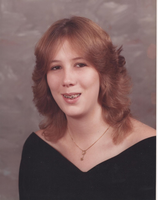 Donna L. Trupkiewicz
Donna L. Trupkiewicz, 52, of Millville passed away on Saturday, August 31, 2019 at the Samaritan Hospice Inpatient Center in Voorhees following an extended illness.
She was the daughter of Nancy Clarke Young of Millville and the late James Trupkiewicz and had been a Millville and Bridgeton area resident most of her life.
Donna had previously been employed with the Major Clothing Company in Bridgeton before becoming disabled.
She was an avid NASCAR fan and loved her cats.
In addition to her mother she is survived by an uncle, Robert Trupkiewicz of Delaware and other relatives and friends.
Private graveside services will be held at the convenience of the family at Fernwood Memorial Park in Hopewell Township where the interment will follow the services. Arrangements are under the direction of the PADGETT FUNERAL HOME, Upper Deerfield Township.