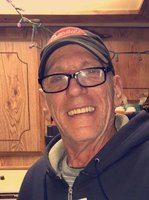 Jody Lee Anderson, Sr.
Jody Lee Anderson, Sr., 57, of Stow Creek Twp. passed away unexpectedly on Wednesday, July 31, 2019 in Millville.
Born in Clarion, PA to the late Robert Anderson and Barbara Gahring Anderson, he was a Cumberland County resident most of his life. In his young childhood, he moved to the Carmel area with his family and later lived in Rosehayn. He had been a resident of Stow Creek Twp. since 2016.
Jody had been a self employed truck driver owning and operating his own truck. He had also worked for Harrison Paving in Williamstown. In his free time, Jody enjoyed riding motorcycles, crabbing and riding dirt bikes. His family described him as a big kid, who enjoyed taking the kids to the arcades and amusements on the boardwalk. He was also a roller coaster enthusiast.
He is survived by; his children, Jody Anderson, Jr. of Upper Deerfield Twp. and Julia Anderson of Rosenhayn, his grandchild, Jordan Anderson; his sister, Cindy Wands of Millville; two brothers, Robert Anderson of Carmel and George Anderson of Vineland and many nieces, nephews and other family members. He was preceded in death by three brothers, Gary Anderson, Jeff Anderson and Randy Anderson.
A celebration of Jody's life will be held at Parish of the Holy Cross, St. Mary's Church, 732 Morton Ave., Bridgeton on Sunday, September 8th from 3 PM to 5 PM. Written condolences can be sent to the family through the funeral home website at www.padgettfuneralhomes.com.