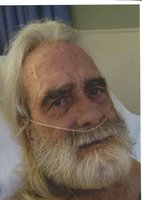 David Lee Riley
David Lee Riley, 64, of Vineland passed away on Friday morning, August 9, 2019 at Eagleview Health and Rehab Center in Pittsgrove Twp.
Born in Iager, West Virgina to Lenora Burchett Riley and the late George W. Riley, he was a resident of Vineland for the past 20 years and prior to that he had lived in Millville.
Before retirement, David had worked at Durand Glass Co. in Millville and Vineland Developmental Center. He was an avid fan of the Philadelphia Eagles and enjoyed watching professional wrestling.
He is survived by; his daughter, Angela Riley; his mother, Lenora Riley of Millville; three sisters, Phyllis Rowland, Lisa Burgess and and Jennifer Owens all of Millville and his twin brother, Donnie Riley of Vineland. He was preceded in death by; a brother, Thomas Riley and a niece, Heather Owens.
Funeral services were held privately at the convenience of the family. Funeral arrangements are under the direction of the PADGETT FUNERAL HOME, Upper Deerfield Twp. Written condolences can be sent to the family through the funeral home website at www.padgettfuneralhomes.com.