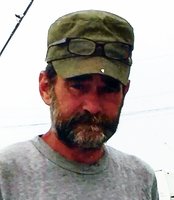 John W. "Rubber" Robinson, Jr.
John "Rubber" W. Robinson, Jr., 48, of Hopewell Twp. passed away unexpectedly at his home on Wednesday, August 7, 2019 following a heart attack.
Born in Bridgeton to Lorraine Franklin Pitman and the late John W. Robinson, Sr., he had been a resident of Bridgeton most of his life.
John had been self employed as a commercial fisherman, scrapper and handyman. He had a great love of the being on the water and was an avid outdoorsman. In his free time, he enjoyed hunting and fishing. Known as a practical joker, John loved spending time with his girls and grandchildren and would never hesitate to help others even if he was struggling himself.
He is survived by; his mother, Lorraine Pitman and her husband, Jim of Bridgeton; three daughters, Brandi M. Robinson (Matt) of Bridgeton, Mandi M. Cooper (Jeff) and Johnna L. Robinson (Louie) of Pennsville; his sister, Rachelle Robinson (Jesse) of Bridgeton; two step-brothers, Jimmy Pitman and Jason Pitman both of Vineland; his grandchildren, Connor, Lacey, Charlie and Emmarie and his nieces and nephew, Ezra, Eliza, Trinity and Scarlett. He was preceded in death by; his father, John Robinson, Sr.; his paternal grandparents, Raymond and Laura Robinson and his maternal grandparents, Charles and Rachel Franklin.
Funeral services will be held at the PADGETT FUNERAL HOME, 1107 State Highway 77, Upper Deerfield Twp. on Wednesday, August 14th at 12 Noon. Friends will be received at the funeral home from 10 AM to 12 Noon prior to the services. Written condolences can be sent to the family through the funeral home website at www.padgettfuneralhomes.com.