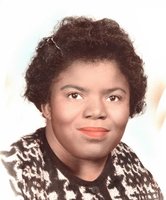 Lillie M. Jacobs
Lillie M. Jacobs. 77, of Bridgeton NJ, passed away on Wednesday, June 5th 2019, under the care of her family and hospice.
Lillie was born in Sylvania, GA to the late Nelson Jacobs and Lillie Jacobs. When she was 18 she moved from Georgia to Bridgeton, and had been a resident ever since. She was a member of Faith Tabernacle Church of Deliverance in Bridgeton. In her free time she enjoyed cooking, crossword puzzles, ministry work, spending time with family and assisting in the church. Most of all Lillie will be remembered for having a house full of children, as she always helped her family care for their children.
She is survived by four children; Ruth Richman (Preston) of Buena Twp., Mary Jacobs of Buena Twp., Bobbi Jacobs-Hover of Smyrna and Anthony Jacobs Sr. (Alison) of Bridgeton; four siblings, Arenta Finney of Brotmanville, NJ, Mammie Miles of Buena Twp., Ethel Newsome of Gouldtown, Herman Jacobs of Millville and Willie Jacobs of Bridgeton; twelve grandchildren; fourteen great grandchildren and a host of cousins, nieces and nephews. She was preceded in death by; a daughter, Jeanette Jacobs and three siblings, Mathew Jacobs, Lillian Thomas and Minnie Holly.
Funeral services will be held at the St Augustine AME Zion Church, 410 N Pearl St, Bridgeton, NJ 08302, on Friday, June 14th at 11 AM. Friends will be received at the church from 9AM to 11AM prior to services. Interment will take place at Cedar Hill Memorial Park in Hopewell Twp. Written condolences can be sent to the family through the funeral home website at www.padgettfuneralhomes.com.