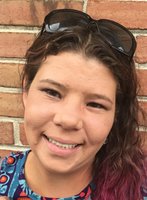 Shellen Lynne Pinkerton
Shellen Lynne Pinkerton, 35, of Pittsgrove, NJ passed away unexpectedly on Saturday, June 1, 2019.
Born in Bridgeton to John Pinkerton and Sharon Schultz Pinkerton, she had been a resident of Pittsgrove, NJ for the past 20 years. Prior to that she had resided in Newport, NJ from her birth until 1998.
Shellen had been employed as a manager in the operation of the family farm, Blueberry Hill Farms in Pittsgrove Twp., NJ. She had a gift for helping adult patients with special needs and worked at Pafcom, Bankcroft and Advoserv in this capacity. She also spent time caring for her father during a recent illness. Shellen was known for her love of elephants and for her love for all of her many pets including; her dogs, cats and guinea pig. In her free time, she enjoyed visiting the beach, flower gardening and fishing. Her family described her as having a "green thumb" because she was gifted in her many gardening endeavors. She was greatly loved by Rick Caple.
She is survived by; her parents, John and Sharon Pinkerton of Pittsgrove Twp., NJ; her sister, Shannon D. Harris and her husband, David of Pilesgrove, NJ and a host of many other family member and friends. She was preceded in death by; her maternal grandparents, Robert and Marjorie Schultz; her paternal grandparents, P. Emory and Ruby Pinkerton and two uncles, Robert Schultz and David Pinkerton.
Memorial services will be held at Country Road Bible Church, 188 Husted Station Rd., Pittsgrove on Sunday, June 9th at 3 PM. Friends will be received at the church from 2 PM to 3 PM prior to the services. Written condolences can be sent to the family through the funeral home website at www.padgettfuneralhomes.com.