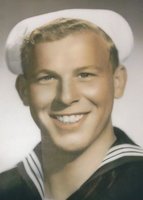 Leonard Shaffer
Leonard Shaffer, 93, of Bridgeton, NJ passed away peacefully at home on May 26, 2019.
He was born on October 31, 1925 to the late Evelyn and Charles Shaffer. He is survived by; his wife of 73 years, Stella; a daughter, Sharon Beningo of Petersburg, NJ; two sons, Lenny Shaffer of Holly Hills, FL and Chris Shaffer of Bridgeton; a sister, Arabella Griffith;10 grandchildren, 15 great-grandchildren and a great-great-grandchild. He was preceded in death by; two brothers, Jim and Bill and two sisters Violet and Myrtle.
Leonard was a World War II Navy Veteran, serving on the USS Bougaenville, stationed in San Diego, CA. Following his military service, he was employed by PJ Ritter Company for 32 years, as well as West Jersey Warehouse and Minots. He was a 55 year member of The American Legion and was an avid hunter, he served as President of the GI Deer Club in Hammonton, NJ.
Funeral services will be held at the PADGETT FUNERAL HOME, 1107 State Highway 77, Upper Deerfield Twp. on Saturday, June 1st at 12 PM. Interment will take place at Overlook Cemetery in Bridgeton. Friends will be received at the funeral home from 10 AM to 12 PM prior to the services. Written condolences can be sent to the family through the funeral home website at www.padgettfuneralhomes.com.