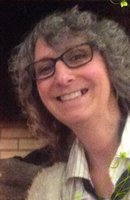 Sandra C. Parsons
Sandra C. Parsons, 47, of Pittsgrove Twp. passed away suddenly at her home on Tuesday, May 7, 2019 following an brief illness.
Born in Woodbury to Thomas Flem and the late Sandra Packer Flem, she was the wife of Leon A. Parsons. Sandra had moved to Laurel Lake at the age of seven following the passing of her mother and had been a resident of Pittsgrove Twp. for the past 14 years.
Sandra had been currently employed as a receptionist for the past several years at Seabrook House. She had been formerly employed at the Cumberland County SPCA and had kept close ties with the organization over the years. In her free time, Sandra enjoyed reading, searching for 4-leaf clovers, shopping with her best friends (her daughters) and "getting out and doing something".
She is survived by; her husband, Leon A. Parsons of Pittsgrove; her daughters, Lauren Noelle Parsons and Sydney Elizabeth Parsons both of Pittsgrove; her father, Thomas Flem of Pittsgrove; her grandmother, Martha McCormick of Millville; a sister, Lisa Egbert-Wilson of Deptford and her best friend/sister, Terri Lunsford of Vineland. She was preceded in death by her mother, Sandra Packer Flem.
Memorial services will be held at the PADGETT FUNERAL HOME, 1107 State Highway 77, Upper Deerfield Twp. on Tuesday evening, May 14th at 7 PM. Friends will be received at the funeral home from 6 PM to 7 PM prior to the services. In lieu of flowers the family request that donations be made in Sandra's memory to the South Jersey Regional Animal Shelter (CCSPCA), 1244 N. Delsea Dr., Vineland, NJ 08360. Written condolences can be sent to the family through the funeral home website at www.padgettfuneralhomes.com.