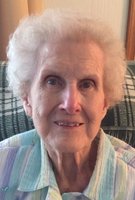 Elizabeth "Betty" A. Shafer
Elizabeth "Betty" Shafer, 94, of Upper Deerfield Twp. passed away on Monday, May 6, 2019 at her home under the care of her family and hospice.
Born in Cumnor, Virginia to the late Shirley T. Armstrong and Elizabeth Sales Armstrong, she was the wife of the late Isaac "Roy" Shafer. She had been a resident of Upper Deerfield Twp. since 1952 and prior to that she had lived in Bridgeton and Salem.
Betty had been previously employed as a licensed real estate broker at Century 21 Realty in Vineland. She had also been formerly employed by Price Label Co. in Bridgeton and Theber Corp. in Bridgeton. She was a member of First Baptist Church in Bridgeton. In her free time, she enjoyed spending time with her family and preparing for holiday celebrations.
She is survived by a son, Ronald R. Shafer of Upper Deerfield Twp.; seven grandchildren; 13 great-grandchildren and a great-great-grandson. She was preceded in death by a son, Lawrence K. Shafer; a daughter, Gloria Feinstein; a granddaughter, Sarah Ann Feinstein and eight brothers and sisters.
Funeral services will be held at the PADGETT FUNERAL HOME, 1107 State Highway 77, Upper Deerfield Twp. on Friday, May 10th at 11 AM. Interment will take place at Laurel Lawn Cemetery in Upper Deerfield Twp. Friends will be received at the funeral home from 10 AM to 11 AM prior to the services. Written condolences can be sent to the family through the funeral home website at www.padgettfuneralhomes.com.