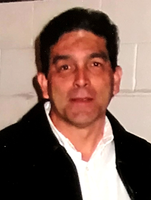 Ludwig F. Gleissner
Ludwig F. Gleissner, 62, of Bridgeton died suddenly on Sunday, April 7, 2019 at Inspira Medical Center in Vineland the result of injuries he sustained when struck by an auto in Millville.
Born in Bridgeton, he was the son of the late Ludwig Gleissner and Bernice Sanchez Gleissner.
A heavy equipment operator, he had been employed locally by South State Construction in Bridgeton. Also because of his work dealing with pipeline construction he had lived in many areas including Wyoming, Montana, North Dakota and South Dakota.
He was an avid outdoorsman and hunter.
Surviving are a daughter, Olivia Gleissner of Elmer and five sisters, Karla Forte of Shiloh, Sylvia Price (Larry) of Hopewell, Victoria Johnston of Upper Deerfield Township, Juliana Frieze (Richard) of Greenwich and Theresa VanSant (Douglas) of Bridgeton.
Services will be held on Monday, April 15th at 10:30 AM at St. John's Episcopal Church, 78 Market Street, Salem. Friends will be received at the church from 10:00 to 10:30 AM prior to the services. Interment will follow the services at St. John's Episcopal Church Cemetery. Arrangements are under the direction of the PADGETT FUNERAL HOME, Upper Deerfield Township. Written condolences can be sent to the family at www.padgettfuneralhomes.com.