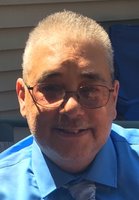 Anthony D. Medina, Sr.
Anthony D. Medina, Sr., 52, of Vineland passed away unexpectedly on Friday, April 5, 2019 at Inspira Medical Center in Vineland.
Born in Vineland to Eleuser Medina and the late Pauline A. Davis Medina, he was the husband of Charisse Kolonich Medina. Anthony had lived at his current address in Vineland for the past four years and prior to that he had lived in Millville.
Anthony had been employed by Wheaton Glass Co. in Millville for 27 years as a supervisor and master mechanic. He was an avid fan of the Philadelphia Eagles and Phillies. In his free time, Anthony enjoyed collecting Fire King dishes, fishing and golfing. Most of all, Anthony loved to spend time with his family and grandchildren.
He is survived by; his wife, Charisse Medina of Vineland; four children, Kimberly Medina of Lexington, VA, Anthony Medina, Jr. of Millville, Branden Medina of Hammonton and Shelby Lloyd of Bridgeton; three siblings, Tina Hines and her husband, Timothy of Millville, Dorothy "Dottie" Sharretts and her husband, Kenneth, Sr. of Cedarville and Victor Soto of Lancaster, PA; his father-in-law and mother-in-law, Anthony and Diane Kolonich of Bridgeton; his sister-in-law, Kathleen Price of Bridgeton and three grandchildren. He was preceded in death by his mother, Pauline Medina.
Memorial services will be held at the PADGETT FUNERAL HOME, 1107 State Highway 77, Upper Deerfield Twp. on Friday, April 12th at 11 AM. Friends will be received at the funeral home from 10 AM to 11 AM prior to the services. In lieu of flowers the family requests that donations be made in Anthony's memory to the American Heart Association, 300 5th Avenue, Suite 6 Waltham, MA 02451. Written condolences can be sent to the family through the funeral home website at www.padgettfuneralhomes.com.