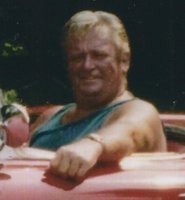 Ray Brown, Sr.
Ray Brown, Sr., 70, of Monroeville passed away on Friday, April 5, 2019 at his home under the care of Hospice and his family.
Born in Cocke County, TN to the late Love Brown and Laura Ellen Schults Brown, he was the husband of Gail Lucha Brown. He moved to Monroeville at age 7 and had lived in the surrounding area most of his life.
Prior to his retirement, Ray had worked as a self employed tree surgeon and also in the scrap metal business. He loved working on cars, especially his Corvette. In his free time, he enjoyed playing pool, barbecuing, working on his many chainsaws, playing Skip-Bo and watching game shows.
He is survived by; his wife, Gail Brown of Monroeville; two children, Ray Brown, Jr. and his wife Brenda of Monroeville and Charlene Deschler of Elk Twp.; ten siblings, Wilma, Saddie, Susie, Nancy, Earl, Herman, Clay, Floyd, Lucille and Martha; nine grandchildren and eight great-grandchildren. He was preceded in death by; his son, Kenny Brown, his son in law, Charles Deschler and four siblings, Ken, Jimmy, Donnie and Marie.
Funeral services will be held at the PADGETT FUNERAL HOME, 1107 State Highway 77, Upper Deerfield Twp. on Wednesday, April 10th at 3 PM. Friends will be received at the funeral home from 2 PM to 3 PM prior to the services. Written condolences can be sent to the family through the funeral home website at www.padgettfuneralhomes.com.