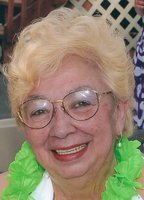 Nancy C. Linn
Nancy C. Linn, 76, of Richland passed away on Wednesday, April 3, 2019 at Inspira Medical Center in Vineland.
Born in Bridgeton to the late Martin Clifton and Elvira Musto Clifton, she was the wife of Donald C. Linn. Nancy had been a resident of Richland for the past 40 years and before that she had resided in Vineland, New Mexico and Virginia.
Prior to her retirement, Nancy had worked as a real estate broker for Pangburn Realty in Millville. She had been previously employed by Caesars Hotel and Casino in Atlantic City as a dealer and a floor boss from 1985-1995 and had worked at Owen's Illinois Glass Co. in Bridgeton for about 10 years. Nancy enjoyed visiting the casinos, cooking for her family and traveling to Florida and Las Vegas with her husband, Donald. She was an animal lover who in recent years had enjoyed adult coloring books.
She is survived by; her husband, Donald C. Linn of Richland; four children, Donald C. Linn, Jr. and his wife, Kim of Richland; Michael Linn and his dog, Lulu of Hammonton; Stephanie Linn of Richland and David Linn, Sr. and his wife, Maggy of Mays Landing; her best friend, Mary Motto of Vineland; an aunt, Yolanda Willis of CA; nine grandchildren, 12 great-grandchildren and a great-great-grandson. Besides her parents, she was preceded in death by; her aunt and uncle, Tommy and Connie Pierce and a sister, Pat Dill.
The funeral liturgy will be celebrated at The Parish of the Holy Cross, St. Theresa of Avila Church, 46 Central Ave., Bridgeton on Wednesday, April 10th at 11:30 AM. Interment will take place at Overlook Cemetery in Bridgeton. A visitation will be held at the PADGETT FUNERAL HOME, 1107 State Highway 77, Upper Deerfield Twp. on Wednesday morning, April 10th from 9 AM to 11 AM. Written condolences can be sent to the family through the funeral home website at www.padgettfuneralhomes.com.