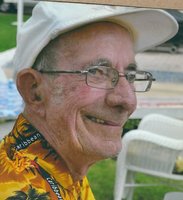 Everett S. Newkirk
Everett S. Newkirk, Jr., 85, of Shiloh died on Tuesday, April 2, 2019 at Inspira Medical Center in Vineland.
A lifetime Shiloh resident, he was born in Bridgeton and was the son of the late Everett S. Newkirk and Lillian Husted Newkirk and the husband of the late Helen Hawkins Newkirk.
Prior to his retirement, Everett had been employed with the Coca Cola Bottling Company in Bridgeton, the B.W. Stetson Company in Bridgeton and Airwork Corp. in Millville.
He was a Veteran and served his country in the United States Air Force. He was a current member of the West Cumberland Ruritan Club and a member of the Shiloh Borough Council. He had formerly served with the Shiloh Fire and Rescue Company.
Surviving are his sons, E. Glenn Newkirk (Lynette) of Shiloh, Roger L. Newkirk of Bridgeton and David J. Newkirk of Fairfield Twp.; three grandchildren, Nicole Ward, Kyle Newkirk and Justin Newkirk; two great grandchildren, Carly and Christian and one sister, Ann Kistenfeger of IL. He was predeceased by a sister, Alice Fink.
Funeral services will be held on Tuesday, April 9th at 10 AM at the PADGETT FUNERAL HOME, 1107 State Highway 77, Upper Deerfield Twp. Friends will be received at the funeral home on Monday evening, April 8th from 6 to 8 PM. Interment will take place at Fernwood Memorial Park in Hopewell Twp. Contributions in Everett's memory can be made to either the West Cumberland Ruritan Club, P.O. Box 303 Shiloh, NJ 08353 or to First Wesleyan Church for the Impact Youth Program, 200 Laurel Heights Drive, Bridgeton, NJ 08302. Written condolences can be sent to the family through the funeral home website at www.padgettfuneralhomes.com.