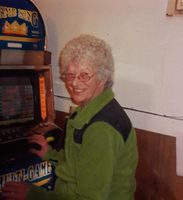 Charlotte N. Halter
Charlotte N. Halter, 82, of Upper Deerfield Township passed away on Sunday, March 31, 2019 at Cumberland Manor in Hopewell Township.
Born in Williamson, West Virginia she was the daughter of the late Russell Damron and Bessie Owens Damron and had been an Upper Deerfield Township resident for 62 years. Before moving to Upper Deerfield she had lived in Bridgeton.
Before her retirement, Charlotte had been employed at Owens-Illinois Glass Company in Bridgeton, Kimble Glass Company in Vineland and at the Chrysler Corporation in Newark, DE. She had also worked for 12 years at the Walmart Department Store in Upper Deerfield Township.
In addition to her work at Walmart, Charlotte loved gambling, the casinos and dancing.
Surviving are her three children, Darlene Connelly (Don) of Hopewell Township, Gary Edward Halter of Upper Deerfield Township and Tracie Chambers (Robbie) of Pennsville; five grandchildren and three great-grandchildren; a brother, Russell Damron of WVA and two sisters, Patsy Lane of Bridgeton and Betty Kay Newsome of VA. She was predeceased by three brothers, Charles Jack Damron, Larry Damron and Jimmie Damron and a sister, Debbie Bradshaw.
Memorial services will be held at the PADGETT FUNERAL HOME, 1107 State Highway 77, Upper Deerfield Township on Thursday, April 4th at 11 AM. Friends will be received from 10 to 11 AM prior to the services. Interment will take place at Greenwood Memorial Park in Millville. Written condolences can be sent to the family at www.padgettfuneralhomes.com.