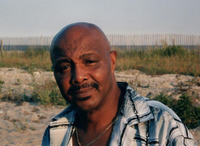 Nathan E. Langston
Nathan E. Langston, Sr., 61, of Millville, passed away on Thursday, March 7, 2019 at the University of Maryland Hospital in Glen Burnie, MD.
Born in Port Norris, he was the son of Arthur Carter of Vineland and the late Gladys Langston and was the husband of Kathleen Keys Langston. He had resided in Maryland for five months and prior to that had lived in Millville and West Cape May.
Nathan had previously been employed with the Woodbine Developmental Center. He was also a DJ and had a deep love for music.
In addition to his wife and father, he is survived by two sons, Nathan E. Langston, Jr. of Millville and Thomas A. McDonnell and his wife Kendra of MD; two sisters, Lillian Parker of CA and Renee Bevins of DE along with 6 grandchildren. He was predeceased by a brother, Willis Humphries.
Funeral services will be held at the Shiloh Baptist Church, Memorial Avenue, Port Norris on Friday, March 15th at 12 Noon. Friends will be received at the church from 10 AM to 12 Noon prior to the services. Arrangements are under the direction of the PADGETT FUNERAL HOME, Cedarville. Written condolences can be sent to the family at www.padgettfuneralhomes.com.