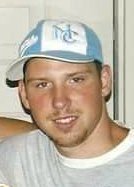 Richard H. Thurman
Richard H. Thurman, 36, of Millville died unexpectedly at his home on Friday, March 1, 2019.
Born in Willingboro to Richard E. Thurman and Crystal Smith Moyer, he was the husband of Kelly Marie Pierce-Lawson. Richard had lived in Millville for the past nine years but spent his childhood years in Fortescue until moving to the Carmel area in the early 2000's.
Richard had been most recently employed at CMC Plumbing, Heating and Air Conditioning in Willingboro. He had been previously employed for most of his career as an HVAC specialist with Bobbitt Heating and Air Conditioning. He started his career when he was just 16 years old in 1999.
In his free time, Richard enjoyed 4x4 trail riding, playing xbox, working on cars and spending time with his friends and family who knew him as the life of the party. He especially loved spending time with his daughter, Kelsey.
He is survived by; his mother, Crystal Moyer of Millville; his father, Richard E. Thurman of Burlington County; three siblings, Cassie Gaskill of Newport, Michael Moyer of Williamstown and Edward Thurman of Millville; his wife, Kelly Marie Thurman of Millville; his daughter, Kelsey Marie Thurman; his Nana, Patricia Thurman of Lumberton; his grandfather, Earl Thurman of Arkansas; his aunts and uncles, James Thurman (Donna), Thomas Thurman (Elizabeth), Kelly Trout (Ron), Chris Brooks and Jim Weiss (Aymie) and many aunts, uncles, nieces, nephews, cousins and friends.
Memorial services will be held at the PADGETT FUNERAL HOME, 160 Main Street, Cedarville on Wednesday, March 13th at 12 Noon. Friends will be received at the funeral home from 11 AM to 12 Noon prior to the services. Written condolences can be sent to the family through the funeral home website at www.padgettfuneralhomes.com.