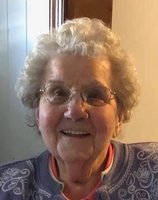 Thelma Dooley
Thelma Dooley, 97, of Upper Deerfield Twp. passed away on Sunday, March 3, 2019 at the Eagleview Health and Rehab Center in Pittsgrove Twp. following a year of failing health.
Born in Bedford, VA to the late John Snead and Pearl Wood Snead, she was the wife of the late Fletcher Dooley. Thelma had been a resident of Upper Deerfield Twp. most of her life.
She had been formerly employed at Seabrook Bros. and Sons in Upper Deerfield Twp. in her younger years on the packing line. Thelma was also a homemaker and cared for her family with love. In her free time, she enjoyed watching television, visiting with her many friends at the Upper Deerfield Senior Center and attending church at the Bridgeton Assembly of God where she was a member.
She is survived by; her son, Rickie Dooley and his wife, Mary Ann of Bridgeton; two grandchildren, Stacy Dooley of Bridgeton and Rickie Dooley, Jr. of Fairfield Twp.; a great-granddaughter, Paisley Harkcom and a great-grandson, Rickie Dooley. She was preceded in death by; her husband, Fletcher Dooley; two daughters, Barbara Parish and Patsy Patchell; two sisters, Goldie and Sammie and two brothers, Gilbert and Oscar.
Funeral services will be held at the PADGETT FUNERAL HOME, 1107 State Highway 77, Upper Deerfield Twp. on Thursday, March 7th at 11 AM. Interment will take place at Northville Lutheran Cemetery in Upper Deerfield Twp. Friends will be received at the funeral home from 10 AM to 11 AM prior to the services. Written condolences can be sent to the family through the funeral home website at www.padgettfuneralhomes.com.