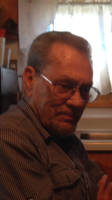 James A. Huff
James A. Huff, 82, of Elmer passed away peacefully on Sunday, February 3, 2019 at his home with his devoted wife Joyce by his side.
Born in Bybee, TN to the late Gordon Lee Huff and Kate Dover Huff, he was the husband of Joyce Conroy Huff. James had lived in Southern New Jersey and Tennessee all of his life.
Prior to his retirement, he had owned and operated his own trucking company, J & J Huff Trucking. He loved his dogs, Pickles and Boo, dearly and enjoyed playing the guitar. James was a hardworking, dedicated man who enjoyed the simple life holding the highest integrity in business and family life.
Besides his wife, Joyce, he is survived by a step daughter; Kathleen Moore; eight children, Bonnie Bailey, Lana "Duke" Miller, James "Willie" Huff, Stella "Skeeter" Rivera, Melanie "Ducy" Huff, James "Mosie" Huff, Thalia "Buggy" Covey and Crystal Huff; three brothers, Troy Huff, Carl Huff and Tommy Huff; four sisters, Bonnie Woods, Mary Huff, Trula Mae Young and Anna Marie Call and many grandchildren and great-grandchildren. He was preceded in death by two brothers, Hardy Huff and Gordon L. Huff, Jr.
A visitation for friends and family will be held at the PADGETT FUNERAL HOME, 1107 Stare Highway 77, Upper Deerfield Twp. on Sunday, February 10th from 10 AM to 1 PM. Written condolences can be sent to the family through the funeral home website at www.padgettfuneralhomes.com.