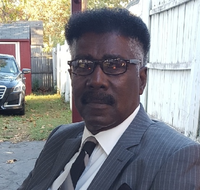 Clyde J. Brooks
Brother Clyde Jackie Brooks, 82, of Cedarville passed away on Monday, April 30, 2018 at Genesis Millville Center.
The son of the late Clyde Brooks and Louise McCoy Brooks, he was born in Earl, NC and was the husband of Jenny Ann McNeil Brooks. He had been a Cedarville resident for 42 years and had lived in Carmel and Bivalve prior to that.
Before his retirement, he had owned and operated Tweeds Van and Transport Service. He also had been a Forman for many years with Peterson Packing Company in Port Norris.
An active member of the New Hope Baptist Church in Cedarville, he had served the church as a Trustee, Deacon and member of the Men's Choir.
In addition to his wife, Jenny Ann he is survived by 11 children, Ella Brooks of Millville, Lorretta McCall of Millville, Brenda Brooks-Stephens of Mt. Laurel, Vernon Lee of Rosenhayn, Clyde Jackie Brooks, Jr. of Wildwood, Harold Brooks, Annie Jackson, Tiara Ward, Robert Brooks, Daryl Brooks and Troy Brooks all of Millville; a sister, Wilma Pelero of NY; 38 grandchildren, 27 great-grandchildren and 1 great-great-granddaughter. He was predeceased by two brothers, Clarence and Napoleon.
Funeral services will be held at New Hope Baptist Church, 47 Schaffer Avenue, Cedarville on Monday, May 7th at 11 AM. Friends will be received at the church from 9 to 11 AM prior to the services. Interment will take place at Haleyville Methodist Cemetery in Commercial Township. Arrangements are under the direction of the PADGETT FUNERAL HOME, Cedarville. Written condolences can be sent to the family at www.padgettfuneralhomes.com.