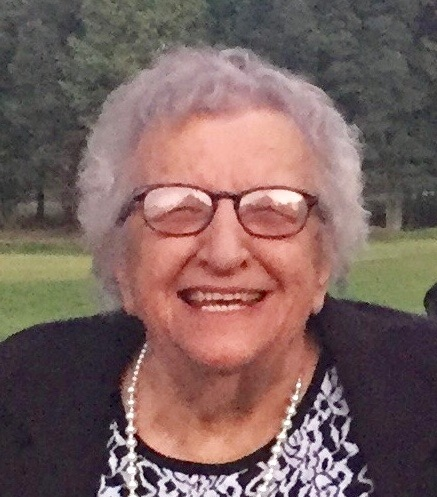 In Memory of
Rose M. Menajlo
1930 - 2017
Obituary of Rose Menajlo
Rose M. Menajlo, 87, of Deerfield Twp. passed away on Saturday, December 23, 2017 at Inspira Medical Center-Vineland.
Born in Johnstown, PA to the late Andrew Kmett and Mary Sida Kmett, she was the wife of the late John P. Menajlo who passed away just this past December 8th. Rose was a resident of Deerfield Twp. and Bridgeton most of her life.
Prior to her retirement she had been employed by Owens -Illinois Glass Co. in Bridgeton until its closing and then had worked at Adamo's Deli for many years. She was a member of the Deerfield Twp. Elks Lodge and the Parish of the Holy Cross-St. Mary's Church in Rosenhayn. In her free time, Rose loved spending time with her grandchildren, cooking, baking, crocheting, doing crossword puzzles and visiting the beach.
She is survived by her daughter, Sharon Olbrich (Russell) of Deerfield Twp.; four grandchildren, Angela Riley (David), Jonathan Riley (Krista), Jamie Vitagliano (Jason) and Zachary Olbrich; six great-grandchildren, Giuliana, Wyatt, Preston, Harper, Seth and Cara; her sister, Dorothy "Dot" Haydak (Mike) of Upper Deerfield Twp.; her sister-in-law, Ann Smith of Deerfield Twp. and her cat, Milkface.
Funeral services will be held at the Parish of the Holy Cross-St. Mary's Church, 732 Morton Ave., Rosenhayn on Friday, December 29th at 1:30 PM. Interment will take place at St. Mary's Cemetery in Rosenhayn. Friends will be received at the church from 12:30 to 1:30 PM prior to the services. In lieu of flowers, the family requests that donations be made in Rose's memory to Rosenhayn Fire and Rescue, 687 Morton Ave., Bridgeton, NJ 08302. Written condolences can be sent to the family through the funeral home website at www.padgettfuneralhomes.com.
Bridgeton: (856) 451-1999
Cedarville: (856) 447-4551

Bridgeton Location

1107 State Highway 77
Bridgeton, New Jersey 08302
Phone: (856) 451-1999

Cedarville
Location
160 Main Street
Cedarville, New Jersey 08311
Phone: (856) 447-4551

Quicl Links