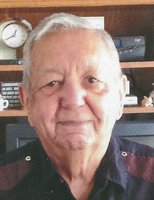 Stephen T. Musso
Stephen T. Musso, 85, of Rosenhayn passed away on Tuesday, April 3, 2018 at Inspira Medical Center-Vineland surrounded by his family following an extended illness.
Born in Rosenhayn to the late Thomas Musso and Dominica "Minnie" Larossa Musso, he was the husband of the late Dreamer C. O'Conner Musso. He was a Rosenhayn resident most of his life but had lived in Bridgeton and PA briefly.
Stephen was a veteran of the United States Army serving during the Korean conflict mainly in Japan and Korea. He had earned the Korean Service Medal, the United Nations Service Medal, the National Defense Service Medal and the Good Conduct Medal.
Prior to his retirement, Stephen had worked for Optopics for about five years in management. He had also been previously employed at Kontes Glass in Vineland as a purchasing agent for 17 years and Vineland Auto Electric for several years as a salesman. Stephen worshiped with his church families at Church of Christ in Pitman and Wellspring Church in Egg Harbor Township. He always looked forward to his family vacations in Ocean City. In his free time, Stephen enjoyed selling glassware, particularly apothecary sets on Ebay and frequenting yard sales and flea markets. His family described him as a great singer and was known to sing wherever he was. Stephen also enjoyed studying the Bible and sharing his faith with others.
He is survived by; his two children, Stephanie DeStefano and her husband Tony of Hammonton, and Robert "Bob" Musso and his wife Pamela "Pam" of Rosenhayn; five grandchildren, Anthony DeStefano and his wife, Hope of Waterford Works, twin sisters, Danielle Mitchell and her husband, TJ of Vineland and Dominique Musso and her fiance, Jesse Akers of Hopewell Twp., Katelyn Ikeorha and her husband, Chuzik and Alexa Price and her husband, Marshall both of Arkansas and a nephew, Dominic Musso of Alabama. Besides his wife Dreamer, he was preceded in death by; a brother, Sebastian "Benny" Musso and a nephew, Thomas Musso.
Funeral services will be held at the PADGETT FUNERAL HOME, 1107 State Highway 77, Upper Deerfield Twp. on Tuesday, April 10, 2018 at 10 AM. Interment will take place at Cumberland County Veterans Cemetery in Hopewell Twp. A visitation will be held at the funeral home on Monday evening, April 9, from 6 PM to 8 PM and again on Tuesday morning, April 10, from 9 AM to 10 AM prior to the services. Written condolences can be sent to the family through the funeral home website at www.padgettfuneralhomes.com.