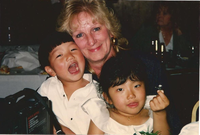 Marjorie E. House
Marjorie E. House, 68, of Fairfield Township passed away on Tuesday, April 3, 2018 at her home with her family.
Born in Bridgeton, she was the daughter of the late Frank "Jake" Blizzard and Marjorie Lutz Blizzard and was the loving wife of Steven L. House, Sr. She had lived in Fairfield Township since 2007 and was a Cedarville resident prior to that.
Marjorie had previously been employed at the Myron L. Powell Elementary School in Cedarville in the school cafeteria. She had also worked at Wheaton Glass Company in Millville, Leone Industries in Bridgeton and Comar Glass Company in Vineland.
She deeply loved her family and her children. She also enjoyed spending time with her late mother in law, Betty House, eating and shopping at the Dollar Stores!
In addition to her husband, Steve, she is survived by her children, Stephanie House of Palmyra and Stephen L. House, Jr. of Fairfield Township along with other family members and her many friends. She was predeceased by her son, J.J. McMahan and her two brothers, Leslie and Frank Blizzard.
Private memorial services will be held at a later date at the convenience of the family. Arrangements are under the direction of the PADGETT FUNERAL HOME, Cedarville. Written condolences can be sent to the family at www.padgettfuneralhomes.com.