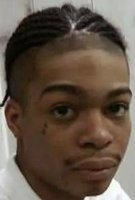 Kyham Holloway
Kyham Holloway, 23, of Bridgeton passed away unexpectedly on Thursday, March 1, 2018 at Inspira Medical Center-Vineland.
Born in Vineland to Jerome Terell James and RuTonya Cross, he was the son of Blanch and Morris Holloway who adopted him at a young age. Kyham had been a Bridgeton resident all of his life.
In his free time, Kyham loved to ride his bike and play basketball. He also enjoyed playing Call of Duty online with his friends, listening to music and talking on the phone.
He is survived by; his parents, Blanch and Morris Holloway of Bridgeton; his biological parents, Jerome Terrell James and his wife, Kimberly of DE and RuTonya Cross of Vineland; his son, Kyham Holloway, Jr.; his siblings, James Davidson of VA, Todd Davidson of Williamstown, Donovan Holloway of Bridgeton and Claudia Smith-Heard of Millville; his biological siblings, Deandra Floyd, Roy Griffin, Jr., Jermaine Floyd, Tyrese Floyd, Hezekiah Jarmon, Jero'me James, Kwididrah Prophet, Tonya Greene, Tyasia Floyd, Lazaira Floyd and Jakyla Floyd. He was preceded in death by a sister, Dr. Evangeline Holloway-Rozier.
Funeral services will be held at St. Phillips Missionary Baptist Church, 275 Richardson Ave, Bridgeton on Saturday, March 17th at 12 Noon. Interment will take place at Fernwood Memorial Park in Hopewell Twp. A visitation will be held on Friday evening, March 16th at the PADGETT FUNERAL HOME, 1107 State Highway 77, Upper Deerfield Twp from 7 PM to 9 PM and at St. Phillips Missionary Baptist Church on Saturday morning March 17th from 11 AM to 12 Noon prior to the services. Written condolences can be sent to the family through the funeral home website at www.padgettfuneralhomes.com.