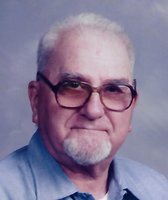 Robert "Bob" Westcott, Sr.
Robert J. Westcott, Sr. WWII Navy Veteran and HAM Radio Operator
Bob was born on March 18, 1922 in Bridgeton to the late Josiah and Molly (Barr) Westcott and had lived in Upper Deerfield Twp. for decades with his wife, the late Doris (Sharpless) and his family. He passed away just the way he wanted, without pain and with friends, on March 5, 2018.
He served on the USS New Jersey, throughout his entire Naval enlistment, during World War II. Being a member of the original crew, he was a proud "Plank Owner" of this ship.
Bob, with the help of Joe Deal, became a HAM radio operator, as a child and held an active license. He was on air, every day, until his death. Bob also collected antique radios, televisions and tubes.
Mr. Westcott worked for the A&P Market in Bridgeton, until he retired after 35 years.
Bob was very proud of his kids. "They all became such wonderful, caring, smart human beings." He leaves behind; his daughter, Molly Haaf (Jim); his son; Josiah (Venetta); and daughters, Rebecca Puff (Charles) and Mary Vineyard (William); seven grandchildren, Shari, Stacy, Irving, Shannon, Jennifer and Michelle; 10 great-grandchildren, Jessica, Tiffany, Damian, Cody, Madison, Cheyanne, Abigail, Teagan, Finley and Aubrey and four great-great-grandchildren, Christian, Brianna, Conner and Abigail. He was preceded in death by; his granddaughter, Brandi Johnson; his grandson, Robert; his oldest son, Robert, Jr. and his devoted wife of more than 50 years, Doris.
Funeral services will be held at the PADGETT FUNERAL HOME, 1107 State Highway 77, Upper Deerfield Twp. on Friday, March 9th at 11 AM. Friends will be received at the funeral home from 10 AM to 11 AM prior to the services. Interment will take place at a later time at Laurel Lawn Cemetery in Upper Deerfield Twp. In lieu of flowers, the family requests that donations be made in Bob's memory to the Battleship New Jersey, 62 Battleship Place, Camden, NJ 08103-3302. Written condolences can be sent to the family through the funeral home website at www.padgettfuneralhomes.com.