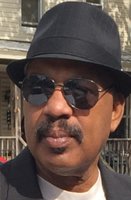 Michael Childers
Michael Childers, 63, of Millville passed away unexpectedly on Wednesday, February 28, 2018 at his home.
Michael was born in Bridgeton to the late Robert M. Childers, Sr. and Margaret Ella Johnson Childers. He had been a Cumberland County resident all of his life and had lived in Vineland, Bridgeton and Millville.
Prior to his retirement, Michael had been employed by Kimble Glass Co. in Millville as a Machine Operator for over 25 years. He had also worked at Bierig Bros. in Vineland for several years. In his free time, Michael enjoyed listening to oldies music especially the Temptations. He was also an avid fan of the Philadelphia Eagles and finally got to see them win a Superbowl Championship.
He is survived by; his daughter, Shantel Childers of Bridgeton; his wife, Ruth Childers; five brothers, Herman and his wife, Juanita, Robert, Gary, Howard and Mark and his wife, Juanita; six sisters, Irene, Barbara Ann, Deborah, Gloria, Margaret and Janet and her husband, Willie; two grandchildren, Tiyonna and Michael Childers and a great-granddaughter, Alanah Childers. He was preceded in death by a daughter, Michelle Childers.
Funeral services will be held at the PADGETT FUNERAL HOME, 1107 State Highway 77, Upper Deerfield Twp. on Thursday, March 8th at 12 Noon. Interment will take place at Cedar Hill Memorial Park in Hopewell Twp. Friends will be received at the funeral home from 10 AM to 12 Noon prior to the services. Written condolences can be sent to the family through the funeral home website at www.padgettfuneralhomes.com.