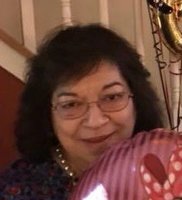 Debra L. Wetzel
Debra L. Wetzel, 60, of Upper Deerfield Twp. passed away on Saturday morning, March 3, 2018 at Inspira Medical Center-Vineland following an extended illness.
Born in Bridgeton to Shirley Sizemore Griffie and the late Frank Griffie, Sr., she was the wife of Douglas Wetzel. Debra had been a resident of the Bridgeton area all of her life.
Prior to her retirement, Debra had worked at the Vineland Developmental Center for many years. She was an active member of Rosenhayn United Methodist Church, where she served in the United Methodist Women's Organization (UMW). Debra was also active in Operation Christmas Child through her church. She loved spending time with her family most of all. Her family and friends described her as a charitable person who would lend a helping hand to anyone in need whenever she was asked. Debra also enjoyed shopping and was known to look for the best deals.
She is survived by; her husband, Doug Wetzel of Upper Deerfield Twp.; her mother, Shirley Griffie of Upper Deerfield Twp.; her daughter, Staci Kinzel and her husband, Robert of Millville; her brother, Frank Griffie, Jr. and his wife, Lisa of Upper Deerfield Twp.; her nephew, Austin Griffie of Upper Deerfield Twp. and her two dogs, Roxy and Baby. She was preceded in death by her father, Frank Griffie, Sr.
Funeral Services will be held at the PADGETT FUNERAL HOME, 1107 State Highway 77, Upper Deerfield Twp. on Wednesday, March 7th at 11 AM. Friends will be received at the funeral home from 9 AM to 11 AM prior to the services. Written condolences can be sent to the family through the funeral home website at www.padgettfuneralhomes.com.