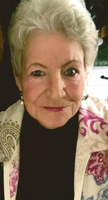 Kathleen Sloboda
Kathleen Sloboda, 77, loving mother and grandmother of Bridgeton passed away on Saturday, February 3, 2018 at Cooper University Hospital in Camden.
A lifetime Bridgeton resident, she was born in Bridgeton and was the daughter of the late Mollie Halter.
Before her retirement, Kathleen had been a career waitress nearly all of her working life at several area restaurants in the Bridgeton area including the Markette Diner, the Bridgetowne Restaurant, the Golden Pigeon and the Gallery Restaurant. In her post retirement years, she also loved to help care for her grandchildren and great-granddaughter.
She loved her family and grandchildren and enjoyed casino trips to PA, coloring and watching the Phillies and Steve Harvey. Affectionately known as "Blue Eyes" by her friends, she was always described as having a smile on her face.
Surviving are her two daughters, Deborah Bierbrunner-Shultz of Bridgeton and Lisa Sloboda of Elmer; two brothers, Donald Irons of Brigantine and Carl Bruce Irons of Villas; a sister, Peggy King of Bridgeton, 8 grandchildren and 3 great-grandchildren.
Friends will be received at the PADGETT FUNERAL HOME, 1107 State Highway 77, Upper Deerfield Township on Friday, February 9th from 6 to 8 PM. Written condolences can be sent to the family at www.padgettfuneralhomes.com.