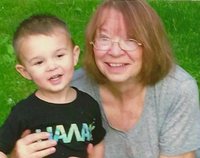 Brenda Jean "Jean" Williams
Brenda "Jean" Williams, 69, of Mannington Twp. passed away at her home on Friday, February 2, 2018.
The wife of Charles D. Williams and the daughter of the late Clyde Reynolds and Pearl Gross Reynolds, she was born in Swords Creek, VA and had been a Mannington Twp. resident for 31 years. She had been a Woodstown resident prior to that.
Jean was a member of the Faith Orthodox Presbyterian Church at Pole Tavern. She deeply loved her family, grandchildren and great-grandson.
In addition to her husband, Charles, she is survived by a daughter, Laura Jean Redrow and a son, Paul Williams both of Mannington Twp.; two sisters, Sue Beebe of KY and Gladys Barker of Woodstown; five grandchildren, Sarah Erb, Emily Erb, Macayla Redrow, Paul Williams, Jr. and Victoria Williams and her great-grandson, Logan Fulford.
Funeral services will be held on Tuesday, February 6th at 11 AM at the PADGETT FUNERAL HOME, 1107 State Highway 77, Upper Deerfield Twp. Friends will be received at the funeral home from 10 to 11 AM prior to the services. Interment will take place at Centerton Free Will Baptist Cemetery in Pittsgrove Twp. Written condolences can be sent to the family at www.padgettfuneralhomes.com.