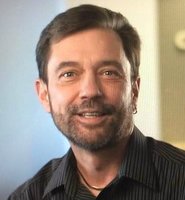 Eric J. Pancoast
Eric J. Pancoast, 56, of Millville died early Sunday morning, January 28, 2018 at his home.
Born in Bridgeton to the M. Luise Oesterreich Pancoast and the late Robert Arnold Pancoast, he was the partner of Michael DeSantis. Eric was raised in the Hopewell Twp. area but had resided in many different places around the country including; Arizona, Big Pine Key, FL, Ventnor and Philadelphia.
Eric had been employed by Comcast in Philadelphia as a National Accounts Customer Service Executive. He had been previously employed by; T-Mobile, Prudential Insurance, AT&T, the Seaside Cafe in the Tropicana Casino Hotel in Atlantic City and the former Neptune Restaurant in Vineland. In his free time, Eric enjoyed traveling, cooking, photography and collecting carnival glass. He also loved cats.
He is survived by; his partner, Michael DeSantis of Philadelphia; his mother, M. Luise Pancoast of Millville; four brothers, Bruce Pancoast of VA, Steven Pancoast, Sr. of FL, Matthew G. Pancoast of Deerfield Twp. and Andrew Pancoast, Sr. of Millville and four sisters, Lorna Pancoast of Millville, Suzanne Norcross of Millville, Bethann Sheppard of Vineland and Rachel Kozma of Millville. Besides his father, Robert Pancoast, he was preceded in death by two brothers, Randall Pancoast and Kevin "Paul" Pancoast.
Memorial services will be held at the PADGETT FUNERAL HOME, 1107 State Highway 77, Upper Deerfield Twp. on Friday, February 2nd at 6 PM. Friends will be received at the funeral home from 4 PM to 6 PM prior to the services. Written condolences can be sent to the family through the funeral home website at www.padgettfuneralhomes.com.