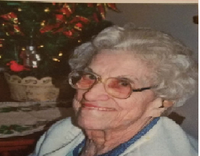 Eleanor Moore
Eleanor Moore, 99, of Cedarville passed away Monday, January 1, 2018 at the Genesis-Millville Center.
Born in Cedarville to the late Harry Stanton and Rose Spencer Stanton, she was the wife of the late Leslie B. Moore. Eleanor had been a lifetime resident of Cedarville.
She had been a homemaker but in her younger years had worked as a Registered Nurse performing private duty service and working in the Operating Room at Bridgeton Hospital. She was a member of Cedarville United Methodist Church.
Eleanor is survived by her two daughters, Rebecca M. Facemeyer and her husband, Michael of Leganto, FL and Roberta M. Mounts of Cedarville; three grandchildren, Robin Henderson and her husband, Greg, Brian Facemeyer and his wife, Lori and Megan Kozielski and her husband, Ken and six great-grandchildren, Jared, Alaina, Anna, Mia, Julia and Taylor. She was preceded in death by a brother, Rev. Stanley Stanton and four sisters, Alma Doughty, Nina Gant, Mildred Stanton and Miriam Stanton.
Private graveside services will be held at the convenience of the family at Cedar Hill Cemetery in Cedarville. Funeral arrangements are under the direction of the PADGETT FUNERAL HOME, Cedarville. In lieu of flowers the family requests that donations be made in Eleanor's memory to the Cedarville Fire Department, 30 Maple Avenue, Cedarville, NJ 08311. Written condolences can be sent to the family through the funeral home website at www.padgettfuneralhomes.com.