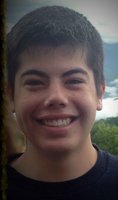 Cruise Killian "Mookie" Mick
Cruise "Mookie" Killian Mick, 23, of Upper Deerfield Twp. passed away on Tuesday, January 2, 2018 at Children's Hospital of Pennsylvania in Philadelphia following complications of a congenital heart defect present since birth.
Cruise was born in Bridgeton to David Mick and Ginger Davis Mick and had been a resident of Upper Deerfield Twp. most of his life. He was a graduate of Cumberland Regional High School Class of 2012 and was a member of the Bridgeton Seventh Day Adventist Church.
Cruise was a music lover, always looking for new music to listen to. He also enjoyed playing the keyboard. In his free time, Cruise loved working out and reading on the internet. His family described him as a caretaker always concerned with their well being over his own. Cruise's favorite activity was staying up late talking and watching movies or TV with his mother.
He is survived by; his parents, David and Ginger Mick of Upper Deerfield Twp.; two brothers, Gage Mick and his fiance, Deneen of Galloway Twp. and Bryce Mick of Philadelphia and Upper Deerfield Twp.; his paternal grandmother, June Mick of Deerfield Twp.; his maternal grandmother, Ginger "Gran Krusty" Shinn and her husband, Robert of Bridgeton; an aunt, Stephanie Pierce of Deerfield Twp.; five uncles, Brandon Mick of Deerfield Twp., Iain Davis (Genevieve) of FL, Robert Davis of FL, Ty Davis of Bridgeton and Jim Colaneri (Amy) of Upper Deerfield Twp.; his cousins, Danielle and Evan Pierce of Deerfield Twp., Sarah Berlin (John) of FL, Joshua and Dutch Davis of Bridgeton, Tallon and Kylie Mick of Deerfield Twp. and Christian and Jarrett Colaneri of Upper Deerfield Twp.; his close friend, Diego Martinez of Oswego, NY and his heartbroken cat, Keiko. He was preceded in death by his grandfather, Gary Mick.
Funeral services will be held privately at the convenience of the family. Funeral arrangements are under the direction of the PADGETT FUNERAL HOME, Upper Deerfield Twp. Written condolences can be sent to the family through the funeral home website at www.padgettfuneralhomes.com.