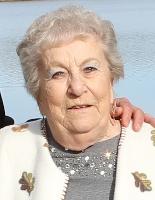 Madeline Elaine Davis
M. Elaine Davis, 86, of Newport passed away on Thursday, February 9, 2017 at her home under the care of Hospice and her family.
The daughter of the late John F. Banks and Sara Snead Banks she was born in Bridgeton and was the wife of the late Lawrence C. Davis. She had been a Newport resident for 47 years and had lived in Hopewell Township and Cedarville prior to that.
Before her retirement, Elaine had worked at the Down Township Elementary School for 24 years where she served as registrar.
She was a member of Newport United Methodist Church, the United Methodist Women, the Order of the Eastern Star and the Red Hat Club.
Surviving are her three children, Bruce L. Davis of NC, Lloyd A. Davis of NC and Dawn LaMontagne of Newport along with 7 grandchildren and 9 great-grandchildren.
Funeral services will be held at the PADGETT FUNERAL HOME, 160 Main Street, Cedarville on Monday, February 13th at 1 PM. Friends will be received from 12 to 1 PM prior to the services at the funeral home. Interment will take place at Cedar Hill Cemetery in Cedarville. In lieu of flowers the family asks that contributions in Elaine's memory be made to the Newport United Methodist Church Written condolences can be sent to the family at www.padgettfuneralhomes.com.